"Andrea Clark hopes to have the same impact on homicides that Mothers Against Drunk Driving has had on the senseless loss of life in alcohol-fueled traffic accidents. Her group, Mothers of Murdered Children, is bone weary of losing kids to gun violence. The 8,000 mostly Detroit moms have all buried children who were shot to death." Nolan Finley, Detroit News
Mothers of Murdered Children (MOMC) is a Detroit-based organization with a core goal of moving from grief to action. Our mission is to advocate for justice, victims' rights and become an intervention component to stop the cycle of violence. We are committed to supporting victims of violent crimes and to making an impact on the number of homicides against children in Detroit.
Our organization's core goals are to:
increase community awareness of the plight of victims and families due to violence
reinforce a strong desire to stop the violence and advocate non-violence
increase the awareness amongst non – profit organizations of the need to unite forces
The rate of homicide in Detroit remains at an all-time high. For families that lose children to homicide, resources for recovery and healing are non-existent.  MOMC provides support and assistance to mothers and families who have lost children to homicide in the Detroit metro area. Each year, MOMC supports 70 mothers/families who've lost children and mentors up to 40 girls who have been exposed to violence or who have lost a family member to violence.
A survivor shouldn't have to struggle in seeking justice for a child's death.
MOMC was formed in 2011 by Andrea Clark, the organization's leader. In 2011, Andrea lost her son to homicide.
The experience and pain of losing her son, coupled with a clear lack of resources available to help her go from a place of grief to healing and disdain from those who should have helped her seek justice, Andrea was certain that her experience was not isolated. She had to do something to change the landscape – the way in which the mothers and families are treated when they lose their children to violence. This experience drove her to create a space and opportunity to help mothers and families process the grief of homicide, help one another through sharing of the specific loss of their children to violence and provide, to the extent possible, the support necessary to assist victims in crisis.
Mothers of Murdered Children is a crisis intervention and survivor assistance organization. Our mission is to empower families, friends and communities traumatized by homicide, through education, criminal justice advocacy,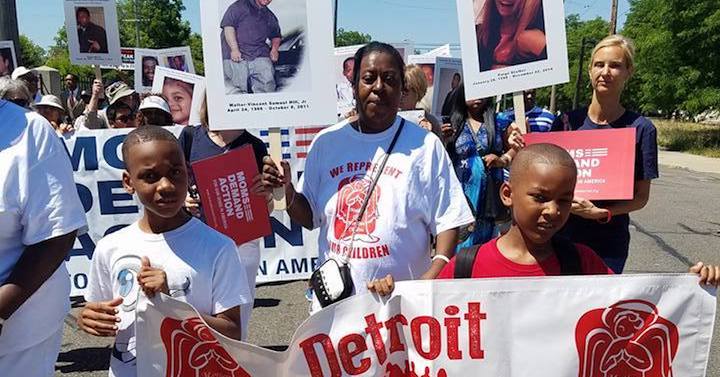 and grief support services, from the critical time after a crime occurs through the challenges and success of moving from grief to action.
Mothers of Murdered Children works in our community and with law enforcement on behalf of grieving families to provide support services that reduce the effects of trauma and create pathways to self-sufficiency.  We facilitate communication and cooperation across various public service, government and non-profit organizations to ensure the health, safety, and wellbeing of children and their families are a top priority, and partner with those willing to do the same.
We believe that no one should feel abandoned or alone and that every person is deserving of respect dignity and love
We believe the best way to help others move from grief to action is to work in partnership with our community, law enforcement, elected leaders and members of the media.
We believe that together we can lift each other out of darkness.
Mothers of Murdered Children's vision is for communities affected by homicide to recover from their experience mentally, physically, emotionally, by receiving the respect, support, and positive encounters with law enforcement, the judicial system, and the community.